We have obtained useful and important financial support for our future development, following the call for projects launched by Wallonie Bruxelles International in 2020. This grant is intended to co-finance the project "Education for global and united citizenship, health and to healthy living, in the service of development, in the city of Kinshasa, in the Democratic Republic of Congo ".
We warmly thank the Wallonia-Brussels Federation for this support, which allows us to help our beneficiaries and contribute to the realization of our projects!
The project aims to prepare and execute a program of activities centered on training on the themes of education in human rights, health, hygiene of life and awareness of contagious diseases such as Covid-19, projects development related to literacy and school support and the creation of an artisanal sewing sector.
All activities will be carried out in a multipurpose center prepared for the occasion and which is the common thread of the project, in the city of Kinshasa in the DRC. Awareness campaigns for infectious diseases such as malaria, Covid-19, measles will be prepared and organized from this center. In complete synergy with these awareness campaigns, we will finally provide a room for a sewing workshop for young girls, following the experience acquired in the artisanal manufacture of masks of preventive fabrics during the difficult times of the Covid crisis.
The combination and complementarity of the activities carried out on and from the multipurpose center will generate a virtuous circle of knowledge, know-how and skills capitalization that will be useful for the development of our actions when the 24-month project is completed. completed.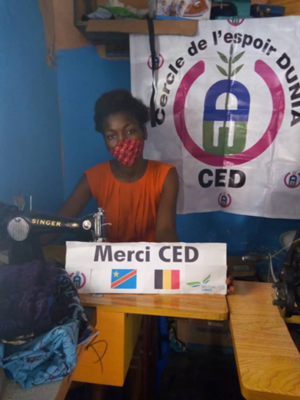 The proposed model was tested in the field in early 2020, by combining awareness of contagious diseases and the establishment of a small artisanal sector for the production of fabric masks. This model is certainly replicable and extensible, in terms of training modules and manufactured craft products, and exportable in geographic terms.
Finally, the proposed model is intended to be financially self-sufficient and self-managed, that is to say, supported locally by our team of volunteers.
Education projects and actions will be carried out with local associations from civil society, all based in Kinshasa (DRC).
The original partnership between civil society actors in the North and the South, is based on a structure of dynamic and competent volunteers, and on methodological, educational and financial support from the North, which allows us to bring together all the ingredients necessary for the success of this project.
Due to the pandemic, this project will be carried out in 2021 for research and equipment of the premises intended for the reception center, as soon as sanitary conditions allow this project to start in good conditions, and will be accelerated in 2022 to its implementation phase.
Thank you for your loyal support and encouragement, which allows us to be motivated to do more!
IBAN: BE52 9531 3517 3509
Communication: "DONATION" + Surname and First name of the holder of the financial account
For any donation made from January 1, 2021 and of a minimum of 40 €, you will benefit from a tax deductibility, you will receive a certificate from us for this.
To find out about our activities or contact us, just one address!
The CED team
https://www.cercle-espoir-dunia.org/
We wish you a happy holiday season.
Take care of yourself and your loved ones, more than ever!
With the support of the Wallonia-Brussels Federation