On the ground in Kinshasa, we have tremendous support from competent and dedicated people, who work tirelessly to increase the quality of life of the children being followed. Without them, daily monitoring could not be done effectively.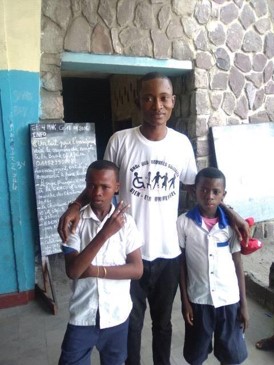 Since 2018, we have restructured and strengthened the local team "Cercle de l'Espoir Dunia – Kinshasa section" : team is now motivated, reliable and relies on various expertise. Their skills and especially their extraordinary human abilities are used to manage the complicated situations that are numerous in the Democratic Republic of Congo, in the field of health and education.
Our local team is currently composed of project coordinators, psychologists, lawyers, educators, nurses, doctors, or retirees.
It must be emphasized that the entire work of these people is done on a voluntary basis, which is remarkable. Also, we compensate modestly this effort by contributing to their travel expenses to visit our beneficiaries in often inaccessible areas, whether for their trips by bus, collective taxis ("fula-fula") or via the famous all-purposes motorcycles ("wewa").
We offered them a modest Christmas envelope to encourage them to continue working for us in 2019.
It should be noted that over the last few weeks we have been using faster, cheaper and more efficient means of communication (Skype, WhatsApp etc.) for our information exchanges between our organization in Belgium and the Kinshasa-based team.
We take this opportunity to thank them very much for their hard work!